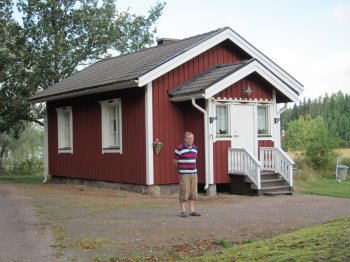 On the beautiful farm of Grefvas I meet Karl-Göran Karlsson, who has two cottages for rent, one for year-round use and the other a summer cottage.
- I lived in this cottage with my wife when I returned to Degerby after the lease period, Karl-Göran says. (See picture)
Some of the guests are construction workers that need a temporary residence.
- This year we have had a lot of bicycle tourists, they like it that you can rent the cottage even only for one night.
Guests from Finland, Sweden, England, Germany, France, Australia and other countries have staid at the Grefvas cottage.
- They've all liked it a lot.

And no wonder! The view from the terrace is wonderful, the farm is well-kept and the environment is peaceful and if you are really lucky, you can see wild animals on the nearby field.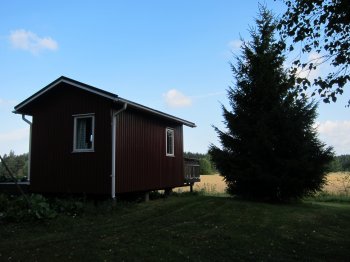 - Some of our foreign guests, especially the Germans are excited about seeing a moose.
The year-round cottage is for max 5 persons. The cottages as well-equipped, you can find detergents, shampoo, spices, coffee, tea, salt and sugar – all kinds of articles for everyday use.
The cottages are furthermore equipped with fridges, stoves, coffee makers and microwaves. In the year-round cottage you can also use the TV and the radio.
- Once a visitor told us, we have everything – except for one thing! – A shoe horn! So now we have one of them too, Dita says laughing.
Cottages at Grefvas farm
Halvdelsintie 48, 10160 Degerby
+358 (0)40 7571839 / +358 (0)400 646 398
This email address is being protected from spambots. You need JavaScript enabled to view it.