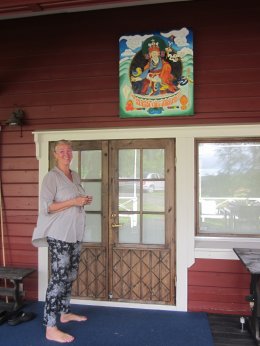 Ten years ago Maira Lindeberg followed her intuition and bought an old, red house in Degerby. This is the place that later was turned into a Tibetan retreat.
Maira has always been interested in religion and philosophy, but on her trip to India she really came in contact with the Tibetan tradition that was going to be a big part of her life. Maira was fascinated by the yogic tradition and started to study the Tibetan tradition. She came in contact with Tulku Dakpa Rinpoche, who is now lama of the retreat in Degerby.
- I had such a strong meditative experience as I saw his picture for the first time. I just sat there, looking at the picture for ten minutes.
Tulku comes from India but he has lived in Finland for many years. He has been studying for 15 years and is a well-known incarnation.
Maira wants to tell people about her retreat to put a stop to speculations and people talking about the activities on the retreat. She is totally open about it and welcomes everyone who is interested to contact her.
- It's nothing strange really. In the stressful lives that people nowadays lead we need to turn to ourselves and look deeper. This is possible through meditation and contemplation, and the retreat in Degerby is a perfect place for that.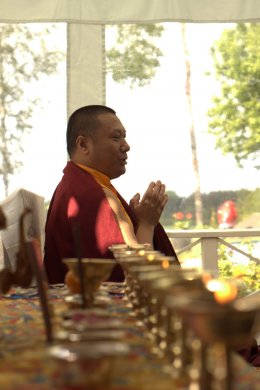 Different courses are also arranged at the retreat. Mostly about 30 participants show up, but this summer there were 60 participants on the course about Tibetan medicine. Maira points out that the courses have to be rather small and intimate in order to preserve the peacefulness of the place.
There are many ways to look at meditation, and probably even a prejudice against it. Maira wants to correct this.
- Meditation is not just about staring at an empty wall for several hours; it's about training our mind.
Mindfulness is one way of meditation that has grown into a very popular activity in our stressful world. Maira means that there is no right or wrong, you just have to find out what works for you, and she found it in the Tibetan tradition.
- You don't have to be a Buddhist or strictly religious to practice this tradition. But of course some people choose the strictly religious way, and that's fine too.
Maira tells about her family life and describes it as a normal Finnish family: she has two daughters and a couple of grandchildren. As she got divorced she found that she had time to invest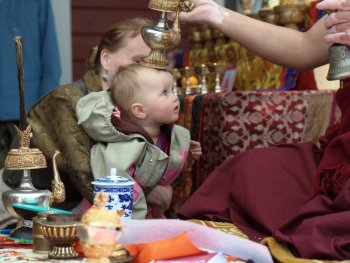 in this fascinating tradition and this led to the opening of the retreat in Degerby.
- I love this place in Degerby: A charming old house on a hill and a fresh breeze blowing from the fields. I love the morning sun in the kitchen and the afternoon sun in the living room. This is a serene place.
Click here to see a video from the course in Degerby this summer.
Rangjung Ösel - "the Buddha hill"

Kocksby, Degerby
+358 (0)50 60696
info(a)rangjungosel.org