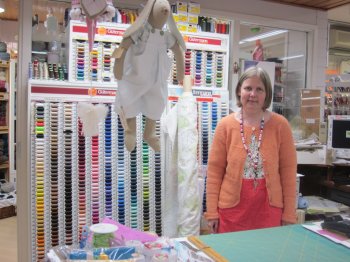 Behind the counter in the cosy, well-equipped needlework and gift shop Nappitiikerit you will almost at all times find the owner herself - Terese Norrvik. Since 2008 she has been an entrepreneur in Degerby.
– I wanted to start doing something completely different, and I had the great opportunity, since the needlework shop in Kirkkonummi closed, Terese explains.

She had been working as an IT-expert at Nokia for 15 years when she finally made the decision that changed her life.
– I have no regrets, and I've never had. It's the right choise. This is what I want to do.

But she benefits from the earlier experiences and knowledges: she does her own book-keeping without any extern help.

Needlework has always been a part of Terese's life and it started at an early age. As a 5-year-old girl she took part in her first needlework course with her mother.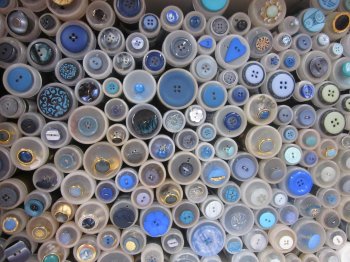 The Nappitiikerit-shop is situated in the old yellow bank house in the church village of Degerby. Terese was looking for facilities and by accident she found this place, when she was driving her children to school.

– At first I was planning on opening only an online shop and these facilities were going to be used as storage and package premises.
Terese has no online shop but you can call her or contact her via e-mail and get the products sent to your home.
Also Terese has noticed that the location of Degerby is optimal, it's halfway between Helsinki and Turku, close to Karjaa, Siuntio, Inkoo, Kirkkonummi and Lohja - and besides that it's located right next to the mainroad 51.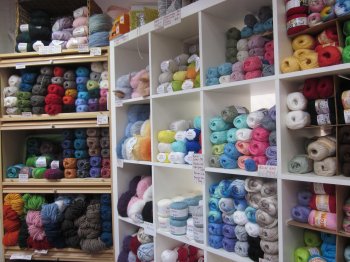 – People come from all different directions. And besides, I can guarantee a free parking spot right outside the shop, Terese says smiling.

Nappitiikerit is an oldfashioned needlework shop with products of good quality and good service. Besides that you can also get suggestions and help with all kinds of problems you have concidering handicraft.
– love it here! I feel good in the shop, I love helping people and organizing courses, which is a big part of our work. We give courses in knitting, embroidery and all kinds of pottering for adults and children. It's so nice to see how the kids enjoy doing something with their own hands - they don't even want to go home! Terese laughs.
At first there was only one course and now there are five. Local products, food and handicraft are popular today, some even write their blogs about this.
–It's really nice to be able to contribute to the trend. It's important that there is a shop with a large selection also outside Helsinki. det blir mer populärt med handarbete.

Nappitiikerit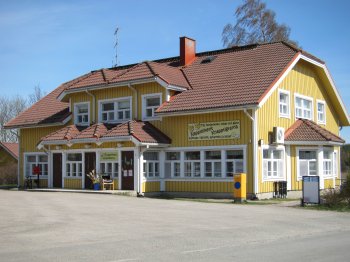 Needlework and Gift Shop
Degerbyntie 11 B (Bank house)
10160 Degerby
Fabric, needlework, buttons and gifts.
Open: Thursday – Friday 11 – 18
Saturday 10 – 16
Tel. Shop: +358 50 5882884
Terese: +358 40 7035168
This email address is being protected from spambots. You need JavaScript enabled to view it.
Read more about local products and services!