An exceptionally large bunker at Storas farm in Solberg has aroused interest already for a longer period of time. The bunker was built during the lease period of Porkkala and it has probably been used as a fire control bunker.
On Thursday the 11th of September a group of students from the senior high school in Tammisaari arrived to start up the excavation of the bunker.
All of the hundreds of bunkers on the area were blasted in autumn 1955 before the Soviet Union left Porkkala and the area was handed back to Finland. The ruins were covered with dirt and twigs. Now all of this has to be removed, together with the stone blocks from the blasting of the bunker.
The blasting and the camouflaging however were insufficiently carried out, and therefore it was easy to get to the entrance of the bunker with the help of a digger.
NB! The bunker is situated on private property and can only be visited with the allowance of the owner.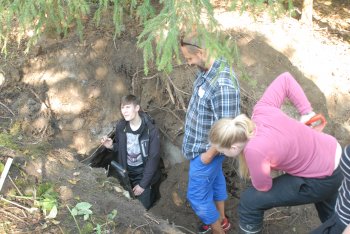 We can see the entrance! Teacher Sture Lindholm is thinking about how to proceed.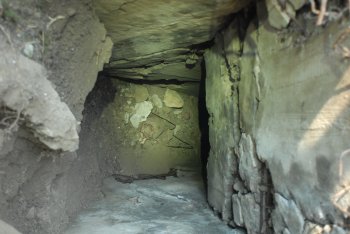 The entrance of the Soviet bunker.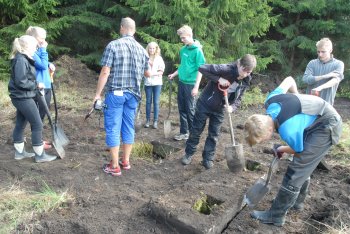 The roof was excavated and the airing shutters were well preserved. The bunker measured 5 meters in depth.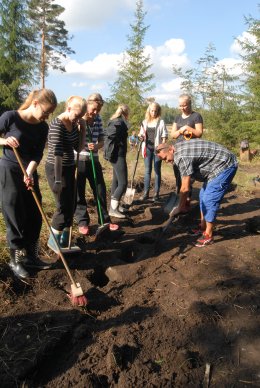 The teacher took part in the excavation.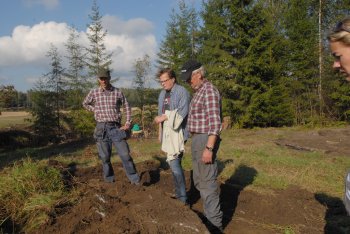 The gun carriage is visible. In the picture from the right: landowner Bengt-Erik Holmström, archologist Jan Fast and Mikael Holmström.