The inhabitants of Degerby, colloquially called "the inhabitants of the eastern part" or "eastern dwellers" of Ingå/Inkoo, soon knew what to aim for. Already in 1746 they approached the bishop of Turku/Åbo, with a request to be allowed to build a chapel of their own. Two years later the wooden church of Degerby was built - on the same spot where the present church is built.
During the early years the inhabitants in Degerby were not allowed to arrange communions or confimations nor funerals in their chapel. But the inhabitants did not give in. By 1844 they had the right to communion and in 1864 Degerby was a chaplain's parish. The following step on the path was total independence for the parish, which happened in 1923.
A major personality of the old Degerby was a man, whom none of the older inhabitants of Degerby will ever forget. Arvid Wigge was the first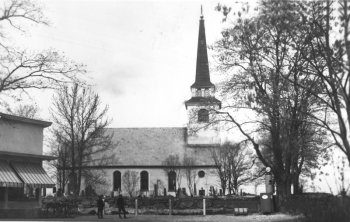 ordinated vicar in the Degerby parish - he also turned out to be the very last one. In Degerby he lived in the vicarage by the road to Kopparnäs. Collecting money and giving the inhabitants of Degerby a new church as the old wooden one was in a bad shape came to be his lifetime achievement. The new stone church was built 1931-1932.
This was one of the two churches that in 1944 ended up on the Soviet military base of Porkkala. The evacuation was a terrible chock for all inhabitants in Degerby, especially for Arvid Wigge. It was extremely hard for him to leave his lifetime achievement. During the lease period of Porkkala it was used as a saloon and a cinema. After the lease period it was in a bad shape. The restoration costs amounted to over 10 million Finnsh mark.