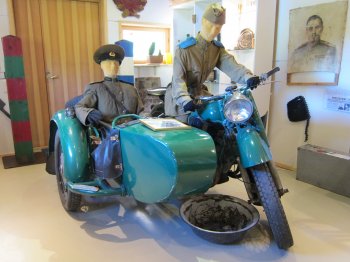 The Degerby Igor Museum tells about the eleven years when the Porkkala area including Degerby was leased to the Soviet Union as a naval base. The village council of Degerby opened the museum in 1997. Today the museum consists of two buildings: the old red outhouse that was restored in 2002 and the yellow house, village office Rosenberg that served as the municipal hall of Degerby until the fall of 1944.

The museum is open in June, July, August 2023 Tuesdays to Saturdays 11-16, from September on Saturdays 12-16 Saturday 25.11.2023 included, and at other times by agreement. Please call preferably at least one day in advance!

Groups booked in advance are prioritized. Groups should always be booked in advance!

Our prices 2023:

During opening hours: 10 € per person, children older than 7 years: 3 €
Groups:
Small groups, less than 10 persons: 10 € per person plus a guiding fee of 45 €.
Bigger groups, more then 10 persons: 7 € per person plus a guiding fee of 45 €. Groups over 25 persons pay for two guides (45+40=85 €).
Coffee or a lunch can be arranged if booked in advance. Coffee and a bun 6 € per person. Coffee with something salty 8 € per person. It i also possible to order a lunch (10,90€)from www.anniina.raita.fi Please check possible opportunities at the museum.

Some themes for 2023:

Life in the vicinity of a Soviet base -

Orders and counterorders, pigs on the loose and barbed wire

What really happened in the Porkkala tunnel

The boat-trip was interrupted in Porkkala

The Junior Lotta, who brought us into NATO

Second lieutenant who never reached the age of 22
Västankvarn 1918 - a guided tour
We are happy to arrange a visit for you! Please contact us: This email address is being protected from spambots. You need JavaScript enabled to view it. or call us +358405418526
Welcome!
Museum card (Finnish: museokortti) is the shared museum entrance ticket of the Finnish Museums Association. As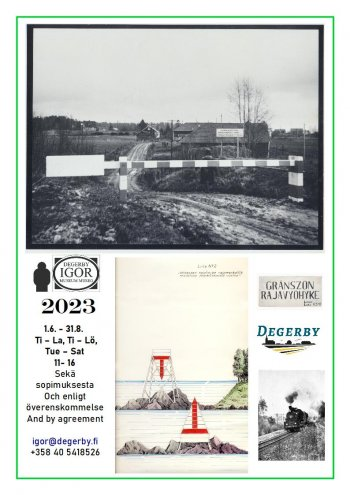 of June 2021 the card grants access to 327 museums throughout Finland (including the autonomous region of Åland)