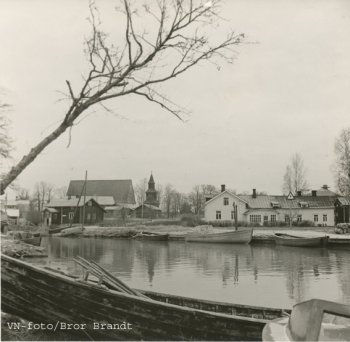 Inkoo is mentioned for the first time in the historical records on the 6th of December 1335. That is when Gert Skytte sold all his estates in Kirkkonummi, Pohja and Inkoo parishes to the Padise Abbey in Estonia. This day is seen as the birthday of Inkoo, in spite of the fact that there already was settlement in Inkoo since the Stone Age, and the Swedish immigration increased in the 13th century, at the time the medieval granite church was being built.

The communitycenter was built in 1845 and the first sc hool opened its doors in 1855.

Due to the regulation of municipal autonomy the village of Degerby got the chance to found an independent municipality, and in 1865 the plan was realized.

When Porkkala was leased to the Soviet union Degerby was connected with the municipality of Inkoo again, officially from the 1st of January 1946. This decision had not been changed, in spite of som attempts from Degerby. The inhabitants of Degerby became inhabitants of Inkoo, but are and always have been very strongly inhabitants of Degerby.

Inkoo has 5 340 inhabitants. Inkoo is a bilingual municipality with 54,3 % swedishspeaking and 42 % finnishspeaking inhabitants. Half of them live in Inkoo churchvillage and the rest in the villages Degerby, Tähtelä, Päivölä, Fagervik, Svartå and Barösund.