Have you heard?
Sigurd Seger was 16 years old when he got a job at Tor Engberg's company. When Engberg had got the job to dig up the graves at the Soviet cemetery in Kolsarby, Kirkkonummi Sigurd was the one who drove the excavator.
- Eight men from the undertaker's came to break open the coffins. At that moment no one was allowed to do anything else. A Russian wrote down all the names that were known. The verger was also there, but I don't remember his name.
Maj-Britt Hindersson-Qvarnström,
Viola Hindersson-Ehrnstén,
Alf Hindersson Degerby, Finland
Sweden 1945-1946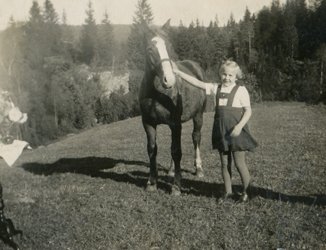 The cousins Maj-Britt and Viola Hindersson were 8 years old when they were sent to Sweden as Finnish "war children". Both of them had their little brothers with them: Bror-Erik was 5 and Alf was 4.
- Take care of your brother, Maj-Britts mother had told her.
In Sweden Maj-Brit was picked out by a family who only wanted her – not her brother. They were separated, but Maj-Britt did not give up until she knew where her brother was.
The high school of Kirkkonummi was built between the church and the railway station after the Soviet lease period. One day, as some boys were playing football on the yard, a man walked by and stopped, because he could not believe what he was seeing. He took the ball and brought it to the principal's office.
- It all felt very strange, says Kaija Kangasniemi, who was principal in the school at the time.
The "ball" was a scull from the nearby graveyard, which the Soviets had dug up.
A Finnish visitor's story:
I lived at a farm, where there were animals of all kind. Our house and the yard were big, so this is where all the children in the village gathered to play. During the war we had a Soviet prisoner of war who helped my parents on the farm and in his free time he played with us kids. One day as we were outside playing the prisoner started to run fast towards the forest. We got worried as we thought the prisoner was going to run away! But all of a sudden he turned as he was running and yelled: Baaaah!We realized that he was on his way to get the sheep that was grazing on the edge of the wood. And in a moment he was back with the sheep on a rope.